"What's for dinner?" It's a question many people dread because eighty percent of the time they don't know the answer. Hopefully that's not you, but if it is, you're in for a treat.
These recipes will set you up for a week full of simple, tasty dinners. And even better, they're designed with athletes in mind, so you'll get your share of nutrients to support muscle growth and meet your daily requirements.
Let's start with the basics: meat and potatoes, plus a little bit of greenery. This recipe from Kari Lund's article, Simplistically Delicious: A Quick Seasonal Dinner Recipe is one of my favorite meals to make on evenings when things are a little hectic. I like to precook the meat and kale so I can just throw the potatoes in the oven, go for a run or do a workout while the kids set the table, and come home to a delicious meal.
Kale and Sausage Sauté Over Baked Potatoes
Prep time: 60 min
Yield: Serves 4
Ingredients:
4 baking size potatoes of any kind (yukon gold, russet, sweet, etc.)
1 pound spicy Italian sausage
2 green onions, chopped
1 garlic clove, minced
1 teaspoon oregano
1 bunch fresh kale (about 3 cups, chopped and de-stemmed)
2-3 tomatoes, diced (or use 1 can diced tomatoes, drained)
Method:
Preheat oven to 375 degrees Fahrenheit.
Wash potatoes and prick liberally with a fork (for venting steam when baking).
Bake potatoes about 1 hour until tender.
With about 15 minutes left until potatoes are finished baking, place Italian sausage, garlic, oregano, and green onions in a fry pan and cook until sausage is browned.
Add tomatoes and kale. Sauté until kale is bright green and warmed.
Serve baked potatoes sliced open with a generous spoonful of kale and sausage sauté over top.
Click to page 2 for a set-it-and-forget-it crockpot recipe.
Then there are the days you just don't want to cook. Maybe you're feeling a little under the weather and want a simple but nourishing meal. PaleoBOSS Lady V Capaldi is here to rescue you. Her Paleo Italian Wedding Soup recipe is easy to prepare in the morning or even the night before a busy workday, and it's mighty tasty. Plus you'll get all the healthy benefits of bone broth, which is used as a base for the soup.
Paleo Italian Wedding Soup with Meatballs and Chicken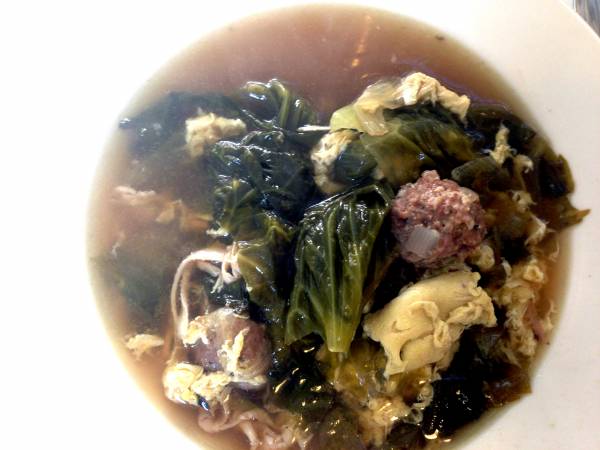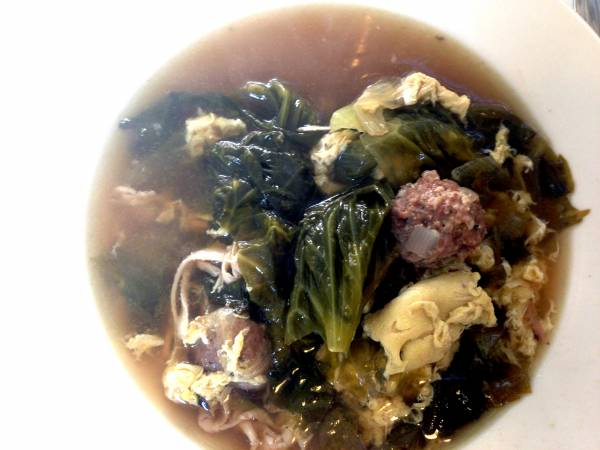 Yield: Serves 8
Ingredients (for the soup):
Ghee or coconut oil
2 bunches escarole, cleaned and torn into bite size pieces
.5lb each of ground beef, pork, and veal (if you don't have all three, it is fine to use any combination or just one)
Chicken broth (ingredients and directions for homemade bone broth below)
7 heads of minced garlic
2 large onions, finely chopped
4 eggs, beaten well
1 tsp fresh parsley
1 tsp fresh oregano
Salt and pepper
Bone Broth
Ingredients:
One whole chicken (3-4lbs)
2 large onions
2 carrots
2 Tbsp ghee or coconut oil
Salt, pepper, spices to taste
2 Tbsp apple cider vinegar
Additional vegetables as desired
Method:
Place whole chicken in the slow cooker with onions, carrots, and ghee. Add spices to your liking and cook on low for six hours.
Once chicken is done remove all meat from the chicken, shred, and put aside. Place all bones back in slow cooker; add filtered water to top and any additional veggies you want and two tablespoons of apple cider vinegar. Now cook on low for 24 to 48 hours.
Drain broth and add to pot. This will be the base for your soup. Add filtered water if needed.
Meatballs
Method:
Take the meat out of the refrigerator one hour before preparation to bring it to room temperature.
Add meat into a bowl with one teaspoon of parsley and oregano, finely chopped.
Add one egg and half of the chopped onion.
Now add two heads of the finely chopped garlic and salt and pepper to taste. Mix well. I recommend getting your hands in there and squeezing it all together.
Roll the mixture into half-inch size meatballs.
Fry the meatballs in oil or bake in the oven at 350 degrees for about fifteen minutes – whichever you prefer. Put the meatballs aside and begin the soup.
Soup
Method:
In a large pot, add about three tablespoons of oil, as well as the remaining minced garlic and onion.
Sauté onions and garlic over low flame, being careful not to burn the garlic.
Once the garlic starts to turn a nice golden yellow, add the escarole to the pot.
Now add the chicken broth to cover the escarole and increase the flame to high until the ingredients begin to boil.
Lower the flame and add the meatballs and shredded chicken.
Cover and simmer for about 45 minutes.
Beat the eggs together and pour them into the soup, stirring constantly. Cook another few minutes and serve!
Got fish? Get your dose of healthy fats on page 3.
If you read the word "fish" and felt afraid, you simply must read Tim Harrison's article, The Key to Perfectly Cooked Fish (Plus 2 Recipes). Then, make this quick and easy recipe and see how simple preparing fish can be.
Fried Fish With Lemon and Butter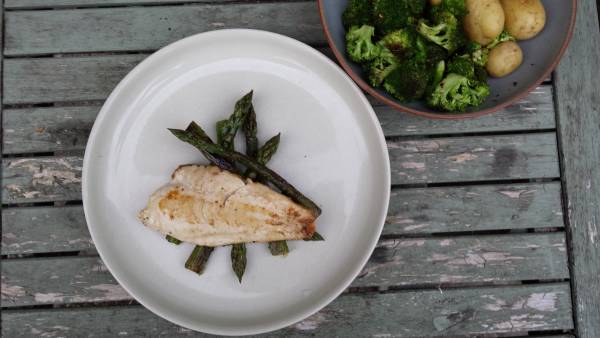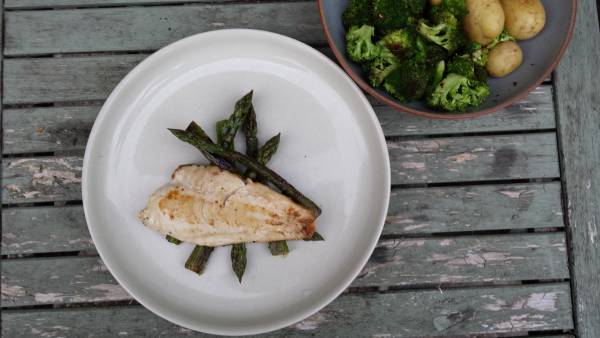 Yield: Serves 2
Prep: None
Cook Time: 10 minutes
Ingredients:
2 x fish fillets
1 teaspoon oil for frying – use an oil with a high smoke point like peanut oil or coconut oil
1 lemon
Knob of butter
Salt
Method:
Put a large pan on a high heat with a little oil. Season both sides of the fillets with a little salt.
Lower the fillets into the pan one at a time, holding the thin end. Lower them in away from you, so you don't get splashed with hot oil.
Leave the fish alone, unless it curls in which case, as I mentioned above, rest a ramekin or saucer on top to encourage it down.
When the flesh has turned opaque to about halfway through the fish, turn, add a knob of butter and cook for one more minute. Then remove from the pan and set somewhere to rest.
Take the pan off the heat, squeeze in the lemon and add a big knob of butter. Stir it round to emulsify and lift any flavor and pour over your fish.
Serve with boiled new potatoes and broccoli. And that is pure class.
Paleo comfort food is just a click away. Get a chili recipe on page 4.
Chili is one of my family's favorite dinners, even during the summertime. Savannah Wishart's award-winning recipe is tried and true. It's also full of meat and paleo friendly, so if you have any issues with the usual chili suspects (beans), you won't have to worry.
Paleo Cave(wo)man Chili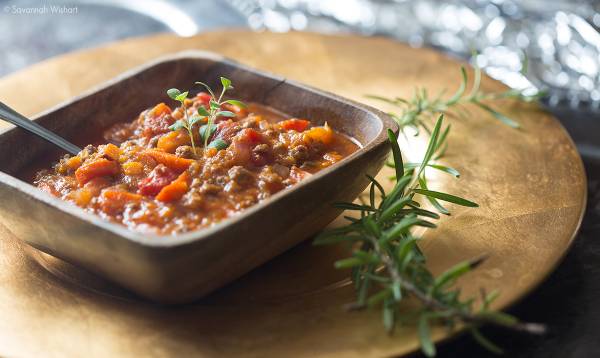 Yield: Serves 16
Prep Time: 60 minutes
Cooking Time: 2-8 hours
Ingredients:
3lb grass-fed ground beef
4 large sweet potatoes
16 slices bacon
2 parsnips
4 purple carrots
2 red onion
2 red peppers
4 cloves of garlic
4 Tablespoons tomato paste
2 28oz. cans whole peeled plum tomato
4 cups beef broth
1 Tablespoons chili powder
1 teaspoon chipotle chili powder
1 teaspoon cayenne pepper
2 teaspoon cumin
2 Tablespoon raw unsweetened cocoa powder
2 cups butternut squash soup
Salt and pepper to taste
Note: This is a sweet chili. I don't like too much spice, so if you do, add more chili!
Method:
Preheat the oven to 425 degrees Fahrenheit. Bake two sweet potatoes in the oven until soft (about 45 minutes). Set aside until cool enough to peel.
Chop the vegetables, remaining sweet potatoes, tomato paste, and garlic. Fry in a pan until the vegetables are soft (note: the parsnip takes a bit longer to soften. You can chop it into smaller pieces to shorten the time). Pierce with a fork to check the tenderness.
In a separate pan or cast iron skillet, fry the ground beef until browned.
In another skillet, or after frying the ground beef, fry the bacon. Cut it into small pieces before or after cooking – whichever you find easier.
In a large pot, add the sweet potato from the oven with 1-2 cups of broth. Mash or puree the sweet potato until it reaches a creamy consistency. Alternatively, you can blend the sweet potato and broth in a blender to make it smoother.
Add the cooked vegetables, bacon, and ground beef to the large pot. Heat the large pot on medium-high.
Add the spices and tomatoes.
Cook until the flavors have saturated and the beef is fully cooked. If using a crockpot, this takes 4-8 hours. If using the stovetop, this takes 1-2 hours, depending how strong you want the flavors.
In the last hour of cooking, add the butternut squash soup. This makes for a better consistency. You can add more or less, depending how thick you want your chili.
Click to page 5 for a simple vegetarian classic.
After a hearty chili meal, you might be craving something a little lighter. This vegetarian option from Tim Harrison is a spin on a classic recipe: ratatouille. Tim shared his two secrets for making the perfect version of this French classic:
Purge the Eggplant: After slicing, sprinkle the eggplant with a little salt to draw out some of the water. Then rinse and drain. This purging process removes some of the bitterness. I would recommend this process whenever you are cooking with eggplant.
Add the Tomato Vine: Have you ever smelled vine tomatoes in the grocery store, or even better, while they are still on the plant? Smells good, but that isn't what tomatoes taste like, right? That's because that aroma is in the vine not the fruit. If you add the retained vine at the end of cooking, boom – more yummy.
Classic Ratatouille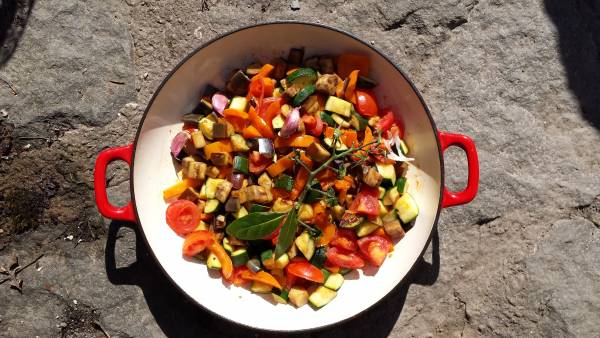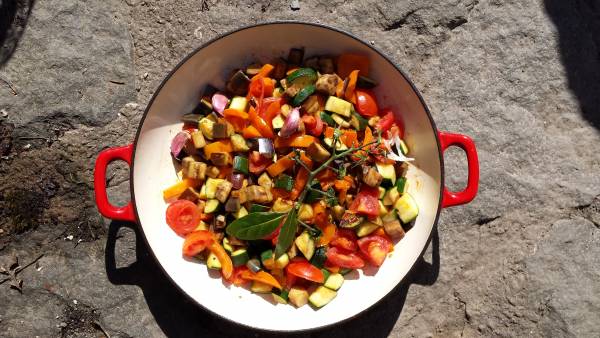 Ingredients:
1 eggplant, cut into ¼ inch cubes
2 zucchini, also cubed
4 large vine tomatoes, chopped roughly and with vines retained
1 red pepper, sliced
4 cloves garlic, lightly crushed, left whole
A few sprigs of thyme
2 bay leaves
Salt and pepper
Method:
Heat up a large frying pan. Now put the eggplant into a colander and sprinkle with salt, then set over a bowl.
Put a little oil into the pan and fry the zucchini for a couple of minutes, browning each side. Set aside in a bowl. Do the same with the red pepper.
Quickly rinse the eggplant of the excess salt under running water, spread out on a tea towel and pat dry then fry and add to the rest of the veg.
Lastly, cook the tomatoes in the pan for 3 minutes, then add the garlic cloves and all of the vegetables back into the pan with the thyme and bay leaves. Cover, turn down the heat, and cook for 20 minutes.
After 20 minutes turn off the heat, lift the cover, season with salt and pepper, then throw in the reserved tomato vines for a minute before serving.
For another classic dinner recipe, click to page 6.
"After many years of practicing and many moments of saying, 'What the heck' (in cooking and in life), I've discovered that playing in the kitchen can be the most fun." Savannah Wishart sums up the spirit of this lasagna recipe in her article, Paleo Acorn Squash Lasagna. Instead of the usual noodles, Savannah uses acorn squash in this recipe for a healthy and gluten-free option.
Paleo Acorn Squash Lasagna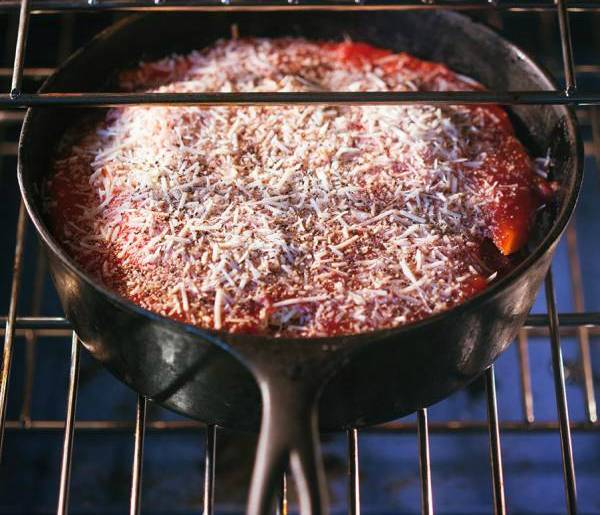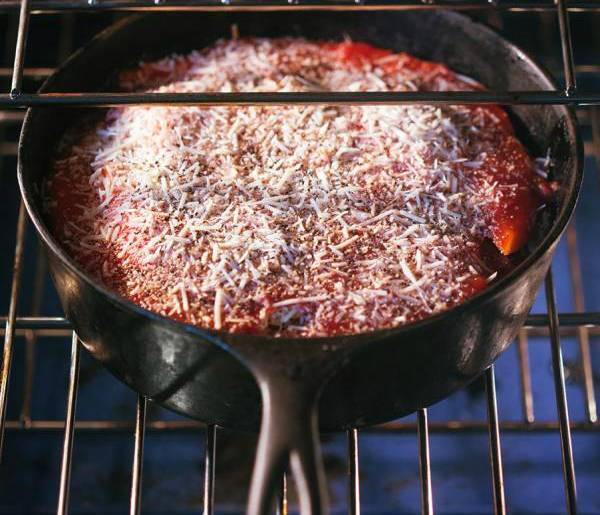 Ingredients:
½ large acorn squash or 1 medium acorn squash
2 cans tomato sauce or 3-4 cups freshly pureed tomatoes
4 fresh tomatoes, sliced
1 onion, sliced
3 garlic cloves, minced
1 lb. organic grass-fed ground beef
Salt and pepper to taste
Cheese (optional and depending on your personal dairy tolerance)
Method:
Preheat your oven to 400 degrees F.
Cut the acorn squash in half length-wise. Continue to cut slices between the ridges of the squash (when you embark upon this challenge you'll understand why people don't normally choose acorn squash for their paleo lasagna). This makes the squash easier to peel.
Take your peeler and peel the slices of squash (the most time-consuming part of the recipe).
Once you have the peeled chunks of squash ready, slice them in smaller strips – about ¼ inch thick. Don't worry too much if you can't make them as thin as you'd like; you might just have to cook it a few minutes longer.
Your lasagna "noodles" are ready!
For the sauce:
Head over to the skillet (cast iron are the best!) and brown your ground beef with the onions, until the meat is cooked and the onions are soft.
If you are making your own tomato sauce to spread between layers, slice the tomatoes, pick a handful of basil, add a few tablespoons of olive oil, a dash of salt and pepper, and add all of the ingredients to a blender or food processor. Puree.
Mince the garlic and slice the tomatoes.
Assemble:
Put it all together in a 9×9 baking dish (we used a large cast iron skillet with high sides). Layer the dish in any order you'd like.
Start with a layer of tomato sauce to prevent the squash sticking to the bottom.
Layer slices of squash (try not to overlap them).
Layer ground beef and onions.
Layer fresh tomatoes and minced garlic.
Sprinkle cheese on between the layers and on top (optional).
Repeat!
Season with salt and pepper.
Put the dish in the oven and cook for 30-40 minutes.
Love pork? Click to page 7 for a simple pork chop recipe.
It's easy to overdo it with pork chops. Here's a one-pan recipe from Tim Harrison that takes less than thirty minutes – perfect for a busy weeknight. Serve it with green beans and mushrooms as in the recipe, or use a vegetable of your choice.
Simple Pork Chop Perfection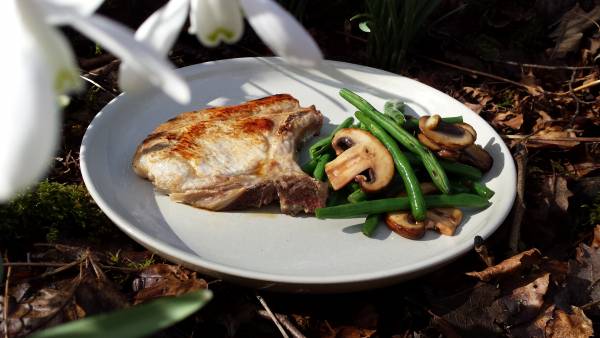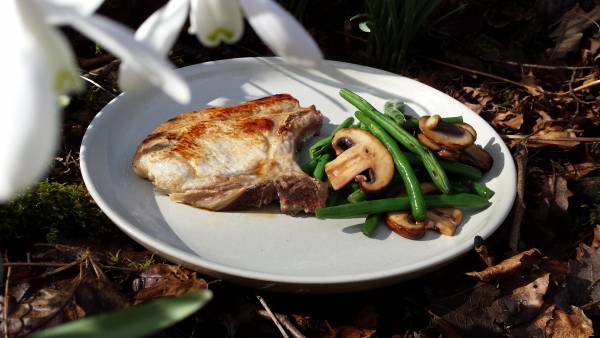 Ingredients:
2 pork chops
200g (7oz) mushrooms
200g (7oz) green beans
2 garlic cloves
1 lemon
Lard for frying
Olive oil
Method:
Make sure your chops have been out of the fridge for half an hour or so. Put a bit of water and a pinch of salt in the pan and set on a high heat. When the water boils, add the beans and cook for one minute. Drain the beans in a colander and cool quickly in cold water, then drain.
Put the pan back on a high heat with a little lard. When the pan is really hot, salt your chops and lower into the pan slowly. Flip every fifteen seconds. After six flips, start to probe the meat. After each flip, insert the probe into the center of the meat. In the case of pork I aim for medium well, 55ºC (131ºF).
When the meat reaches the desired temperature, remove and set aside somewhere draft-free. Sprinkle with pepper and brush with olive oil.
Now add the crushed garlic to the pan, along with the sliced mushrooms and blanched beans. Toss the vegetables in the pan until they start to take on a little color. Then add a squeeze of lemon and serve.
Don't forget the sides! Click to page 8 for seven awesome sides.
Several of the recipes here already have sides included, but I figured I'd include some other recommendations so you have a variety to choose from. Here are links to five of my own favorite sides we've shared on Breaking Muscle.
Give these recipes a shot, and let us know how it goes!
More Like This: