We receive free products and receive commissions through our links. See
disclosures page
.


How to Love a Grappler is a 22-page eBook written by Brazilian jiu jitsu black belt, Valerie Worthington. It is both an introduction to BJJ for practitioners and a guide for the family and partners of people who train BJJ.
About the Author
Valerie has a bachelor's degree in English literature from Dartmouth College and a doctorate in educational psychology from Michigan State University. She has been training Brazilian jiu jitsu since 1998, and I'm sure that she's seen it all in those sixteen years. Who better to explain this intricate, addictive martial art and its lifestyle to our loved ones?
RELATED: A New Normal: The Quirks of an Athletic Lifestyle
Who This Book Is For
If you're in a relationship with someone who has begun training Brazilian jiu jitsu and has become serious about it, you will have noticed that the time and attention previously allocated to you, and maybe your family, have been diverted. If you don't understand the benefits of jiu jitsu and how they extend to your loved one's family and friends, that can cause friction.
"Even if you aren't in a relationship, the lessons Valerie has provided can help you to better love yourself and navigate the BJJ world."
Valerie provides insight as to how BJJ can be good for all involved:
The pursuit of a passion like BJJ can inspire practitioners to expect more of themselves. And if you believe as many practitioners do that BJJ is reflective of life, perhaps you can see how the requirements of BJJ could also inspire self-improvement in general – and how that might benefit you, as someone in your grappler's inner circle."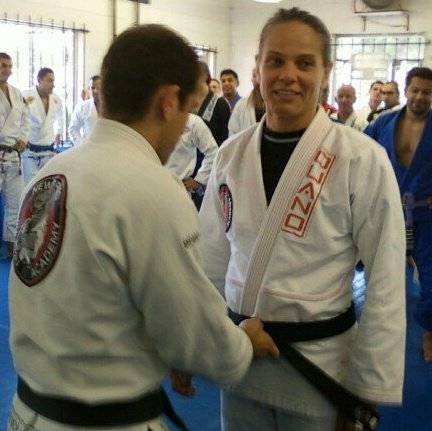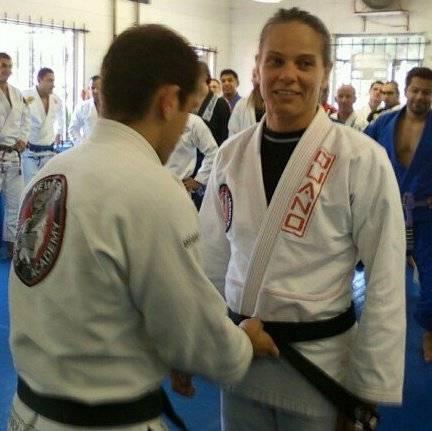 "How to Love a Grappler" author, Valerie Worthington
BJJ Changes You
I have been training BJJ for over six years, and I have been in a relationship with someone who trains BJJ, so I was very interested in reading How to Love a Grappler. I'm no relationship expert, but one thing I'm pretty sure of is that the majority of problems in committed relationships stem from two issues: fear and misunderstanding.
We may fear that our partner will get hurt in training or we may fear that our partner loves BJJ more than he or she loves us. After all, they're always training! And what's up with this new bromance he's developed with Steve?
Worthington describes the changes caused by BJJ well:
The important takeaway here is that the people in BJJ compose a growing and tightly-knit subculture, and this is bound to have reverberations in your life, in some way. Many of these reverberations are potentially positive, but they do constitute a change in the status quo, which may feel threatening or challenging to navigate, particularly since the changes can accumulate over time.
Valerie strives to set the reader's mind at ease, explaining how BJJ has improved her life so much that she chose dedicate herself to it full-time. She also tells us how her family came to terms with her training and the changes it caused in her life.
Gender and Training
Valerie also addresses the topic of training with people of the opposite sex. She explains:
[T]here can be confusion about how men and women can train together effectively and in a way that is mutually respectful – and also respectful of the relationships individuals have outside of grappling. This is particularly important given how jiu-jitsu looks to the untrained eye. It looks inappropriate, particularly if a man and a woman who are spoken for by other people are doing it together.
I am one of the few women at my club, Titans Fitness Academy. We train with many men who have wives and girlfriends. To date, none of those men have ever behaved inappropriately towards me or flirted with me. In fact, I have gained an appreciation for the male gender due to those who speak frequently and highly of their partners in the mostly male environment. Valerie tackles this topic in depth.
RELATED: Great Expectations: The Truth About Gender Stereotypes in Grappling
Not Just for Romantic Partners
I am glad a well-educated, respected, and accomplished woman like Valerie has chosen to write this book. I feel her perspective will be especially well-received and taken into consideration by people who love grapplers, especially women.
But Valerie doesn't just target romantic partners – she strives to educate the families of grapplers as well. How do their parents or children feel? What annoys or inspires them? Video clips are also included to share the perspectives of Valerie's family and the children of Groundswell Grappling Concept's Lola Newsome.
"The important takeaway here is that the people in BJJ compose a growing and tightly-knit subculture, and this is bound to have reverberations in your life, in some way."
In addition to educating the reader about jiu jitsu, Valerie explains how he or she "can help provide the foundation and stability we need to live a balanced life." How the person can talk some sense into an overenthusiastic hobbiest or soothe the worn-out professional athlete. (I think there should have been a section about the special laundering requirements of BJJ gear, but I think Valerie was looking at the bigger picture.)
Acknowledging the grappler's responsibility to love and support his or her partner as well, Valerie adds, "Of course we understand that any relationship is a two-way street. Perhaps our next article will be titled, How to Be a Grappler Who Loves Someone Who Loves a Grappler."
If I ever find myself in a relationship with someone who doesn't train, I will definitely be interested in hearing what she has to say. I think my first step would be to stop talking about jiu jitsu as much. And maybe buy some normal clothes. The kind that real adults wear.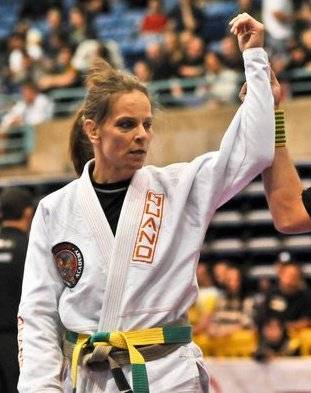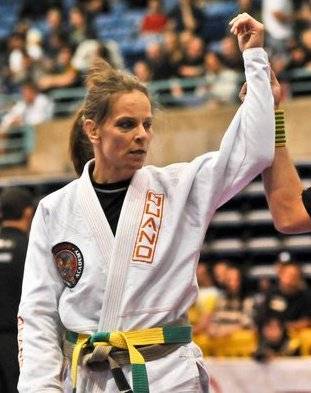 Formatting
The formatting of the book is aesthetically pleasing and the content is organized into seven different sections. I would have like to see a table of contents with hyperlinks to the related sections. I think if someone was offering this book to a loved one who wasn't especially receptive, it would be a great way to locate and share small portions of information.
RELATED: Love on the Mat: The Story of Lisa, Greg, and BJJ
Language
Valerie's language is accessible to anyone. I did have to look up the definition for bailiwick (a person's area of skill, knowledge, authority, or work) and proprioception (the unconscious perception of movement and spatial orientation arising from stimuli within the body itself). Her explanations were simple and the content was perfect for someone new to BJJ. If I didn't train, I might have taken it up after reading this book.
RELATED: Is Jiu Jitsu for You? You Decide
How to Love a Grappler is free, but we all know time is money. I consider reading this book time well spent, and I always look forward to reading Valerie's writing. If you're a grappler, do yourself a favor and share this book with your loved ones. Even if you aren't in a relationship, the lessons Valerie has provided can help you to better love yourself and navigate the BJJ world. It may improve your life just as much as training!
"How to Love a Grappler" is available for free at ArtechokeMedia.com.