<strong">Every year, our family completes two Whole30 programs to refresh our bodies and improve our relationships with food. We just finished our first Whole30 in January and will do another one in June.
Like anyone, we sometimes fall into some ruts where "treats" and "almost real food" become too frequent. Completing a Whole30 is a great way for us to remember how much better we feel (and train) when we don't overdo the wine, gluten-free treats, and potato chips.
Teens Can Do It, Too
My oldest daughter, KaLynn (age sixteen) carries her real food and Whole30 with her everywhere she goes. KaLynn has aspirations of becoming a holistic pediatrician, and she understands the nutrition–health connection. She has a severe gluten intolerance like her momma and has decided to treat her IBS symptoms at the root cause by avoiding common dietary triggers.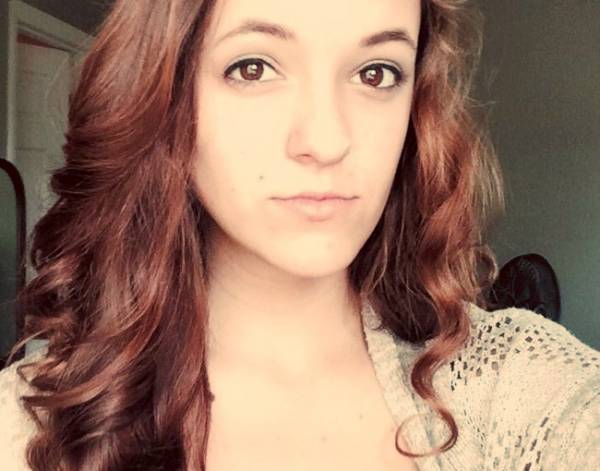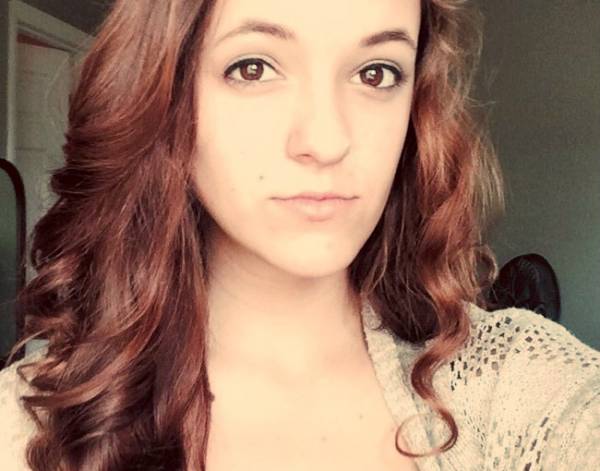 My daughter KaLynn, age 16
Healthy Eating Outside the Home
I sat down to ask KaLynn what kinds of challenges she faces as a teenager who chooses to eat a specialized diet. One of the biggest issues kids (and adults) face is going to friends' houses and sticking to their healthy eating habits. KaLynn discussed how she deals with these situations:
When I go to my friends' houses, they know I have to at the very least eat gluten-free. I tell them ahead of time about my intolerance and how it affects me, so that gets their thoughts automatically turned toward more healthy choices. Chicken is usually my go-to meat because it's easy and versatile.

At first, I thought I was just being a big problem, so I would avoid talking about food and would usually end up not eating much, if anything at all. Then I realized cooking real food recipes together was actually a great way to bond! My friends talk about how they appreciate having me around because it sort of forces them to make better choices and learn to cook. It can be fun!
I also discussed the issue of school lunches with KaLynn, and she expressed the same frustration many adults deal with: setting aside time for preparation. "The struggle is getting the motivation to actually do it that early in the morning," she said. "The key is making it a habit and cutting up things the night before."
Dealing With Peer Pressure
But even with preparation, following a Whole30 or any other program brings with it the added challenge of peer pressure. We all are up against the "Oh yeah, I forgot you're on a diet" comments at the office when we pass on the donuts or decide not to go out to lunch because we already packed food. KaLynn explained how she deals with pressure from her peers:
The pressure to eat like everyone else at school is hard. Vending machines don't help. I love fruit gummy snacks and it takes all of my willpower not to buy them. My friends bring things like popcorn or brownies and pass them around class. Sometimes I would kill to just be 'normal' and eat that stuff like they do. I just have to remind myself how I will feel if I do eat it, and that's usually enough.
At the end of the day, KaLynn's favorite thing about doing a Whole30 is developing new and better habits. Said KaLynn, "I feel like I'm sort of lucky, because I'm learning self-control and good habits at a younger age. Really, at the end of the day, it isn't that hard."
Weekly Meal Plan
Click Here to Download a Copy of the Weekly Meal Plan 
As mentioned above, planning ahead is one of the keys to completing a Whole30 successfully. Here is a week's worth of Whole30-approved meals so you can get a taste for what it's like.
Monday
Breakfast: Cubed watermelon, mixed nuts, and coconut manna
Lunch: Rolled Boar's Head (or other filler-/nitrate-free) deli meat rolled around avocado slices, apples
Dinner: Beef tips (I use stew meat) stir-fried with ghee and slivers of bell peppers, onions, and garlic (pictured below)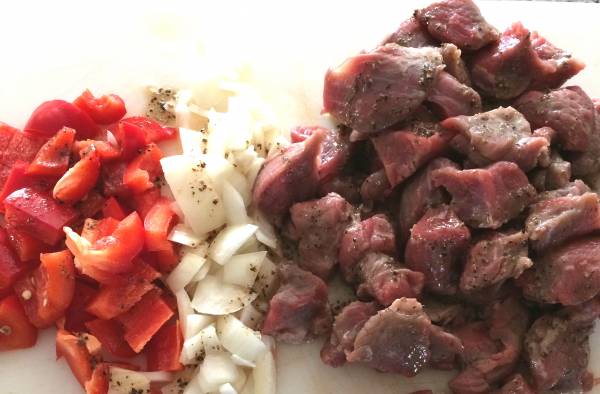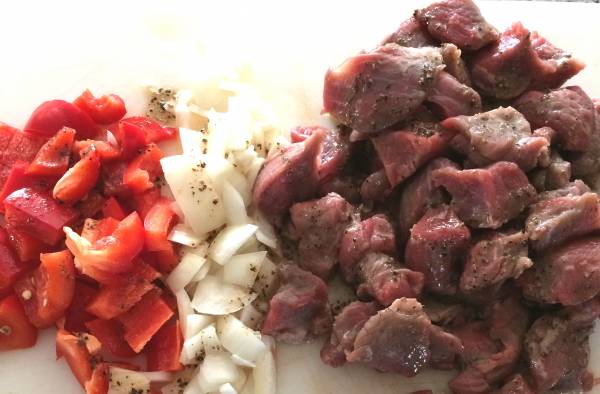 Prepping ingredients for Monday night's stir-fried beef tips
Tuesday
Breakfast: Scrambled eggs cooked in ghee with sautéed leftover onions and peppers from last night's dinner
Lunch: Chicken salad on romaine, made with Whole30 mayo, dill, salt and pepper
Dinner: Spaghetti with "zoodles" (spiralized courgette noodles with meat sauce – pictured below), salad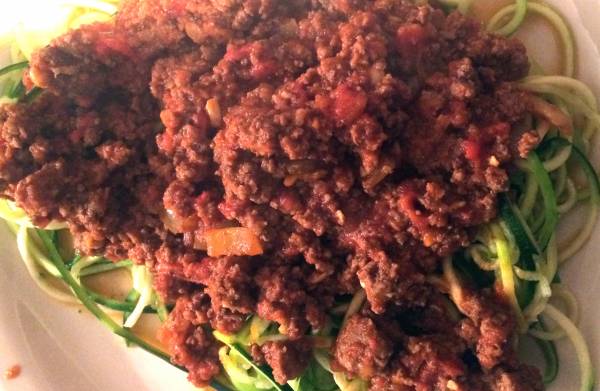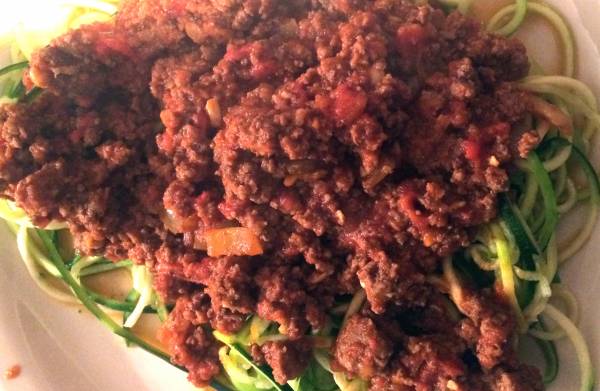 Spaghetti with "zoodles" for Tuesday night dinner
Wednesday
Breakfast: Apples and walnuts seared in coconut oil with cinnamon, hard-boiled eggs
Lunch: Tuna on courgette slices or carrot sticks, served with grapes or berries
Dinner: Stuffed peppers with ground beef, onion, cauliflower rice, and spices
Thursday
Breakfast: Sausage and orange wedges
Lunch: Butternut squash soup
Dinner: Grilled chicken marinated in Tessemae's lemon pepper dressing, roasted courgette spears
Friday
Breakfast: Leftover courgette with fried egg
Lunch: Leftover lemon chicken on a large green salad
Dinner: Baked rosemary and garlic salmon with sautéed spinach
Saturday
Breakfast: Sweet potato hash with eggs and nitrate-free bacon
Lunch: Broiled aubergine (To prepare, brush both sides of slices with olive oil and garlic. Bake at 400 degrees Fahrenheit for 15 minutes, then broil for 2 minutes.)
Dinner: Grilled burgers and fried red potatoes, roasted broccoli (To prepare the broccoli, put broccoli florets in a gallon plastic bag with olive oil and salt. Shake until coated. Bake at 400 degrees Fahrenheit for 15 minutes.)
Sunday:
Breakfast: On the way out the door for church, we slice a banana lengthwise, coat the flat side with almond butter, and smoosh a slice of bacon in the middle
Dinner: We also put a beef roast in the crock pot with red potatoes, onions, and carrots.
The rest of Sunday, we eat up leftovers and plan for the following week.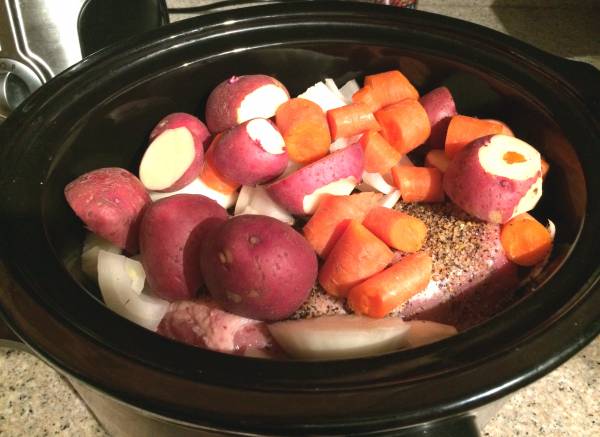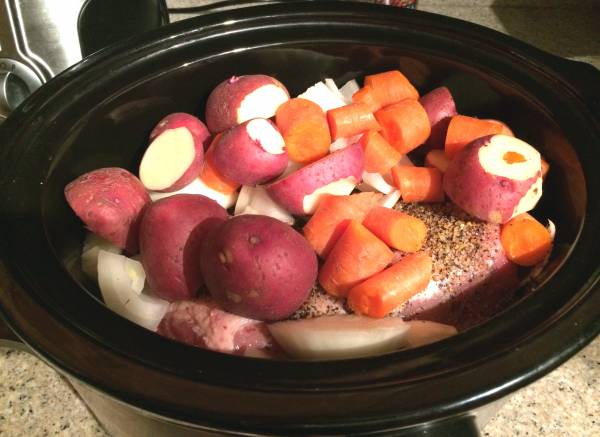 Sunday pot roast
The best way to eat healthy as a family is to make a plan, create a list, and hit up the grocery store and local markets. Good luck to you and your family as you make your way toward better health!
You Might Also Enjoy: