Jorge Califrer is pioneering the sport of Olympic weightlifting in Brazil. 
Brazil? Yes. What, you think that the only sports worth mentioning in Brazil include beautiful people playing fútbol or beach volleyball? Despite this, Jorge Califrer (pictured third from left below) enthusiastically and actively promotes his love for Olympic weightlifting to anyone who is interested in picking up a barbell.
The Birth of Weightlifting in Brazil
Olympic weightlifting in Brazil is in its infancy; however, Califrer believes that just as it takes years to master the intricacies of a lift, his South American nation will someday make a name for itself on the international weightlifting stage. Even via email exchanges void of proper grammar (his English is simple, at best), his passion for the sport is electrifying and he is "mad" for Olympic weightlifting.
But don't take my word for it. "Jorge is a loud, big-hearted coach," said Rodrigo, one of Califrer's athletes. He continued:
Jorge has two rare qualities among coaches these days. First is a big dose of common sense. He knows how to make us walk the thin line of performance without taking unnecessary risks. Second, Jorge cares and he cares a lot. His caring is contagious and we all feel a part of a family, a brotherhood of sweaty people doing amazing stuff with weights.
Brazil, a country with a population of 200 million people, has only a small pool of lifters – about 200 to 250 total with personal records too low for international competition. Califrer doesn't view the low numbers as an obstacle, but rather an opportunity. His mission is to grow the base level of athletes and popularize the sport among the general population. He believes that some trainers in the country mistakenly focus solely on teaching youth to be high-level lifters.
In contrast, Califrer strives to teach a larger age span (from eight to eighty years old) to learn to appreciate and respect the sport. 
If I give a chance to an active person in his thirties, forties, or fifties who admires the sport but has never had the opportunity to train in Olympic weightlifting, it is possible to attract more people at the right age to start," he explained. "When the older person starts, I am building another person to talk about it [weightlifting] to his friends and family, and from that point we have the real chance to have more people coming to weightlifting – and naturally some in the right age to start [youth].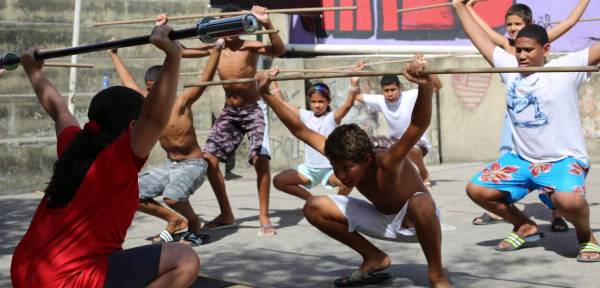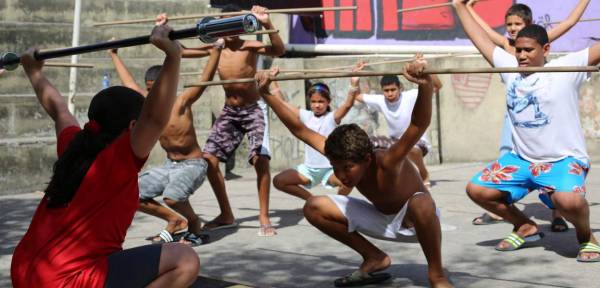 "Brazilian Weightlifting"
Califrer's style of training, what he has coined Brazilian weightlifting, is the result of more than thirty years of experience. Califrer starting training in 1977 at a club in Rio de Janeiro, Clube de Natação e Regatas Santa Luzia (St. Lucy Swimming and Rowing Club). He was exposed to bodybuilding at just fifteen years old and soon transitioned to the Olympic lifts, which quickly turned into a life-long passion. His first coach, Nelson Diasde Carbalho Jr., took third place in the 1979 Pan-American Games. Califrer now refers to St. Lucy's as "his sacred place."
In 1981, Califrer took third place in the Junior Nationals (category 82.5kg) and trained and competed until 1986, where he took first at the Senior National Championship (category 100kg). However, without sponsors and needing to find a more stable source of income to support his family, he stopped training and began working in a regular gym. Not willing to give up his love of Olympic weightlifting, he incorporated basic lifting technique and assistance training routines into his clients' workouts.
In 2011, Califrer returned to St. Lucy's to train others in the Olympic lifts. Just two-and-a-half years after starting his Brazilian weightlifting club at St. Lucy's, he's had more than forty podiums at regional competitions. His group also participates in deadlift competitions, with one of his athletes boasting a 285kg deadlift, 100% raw (without a belt).
How Califrer Programs for His Athletes
When designing his programming, Califrer does not clone the same volume or intensity of other Olympic weightlifting programs. Rather, he adapts to the skills, desires, and culture of his athletes. "Most important to me is to see all the individuals I train grow stronger in all possible levels: psychological and social with a strong and bulletproof health," he explained.
Califrer's coaching style is to "let the river flow naturally." For example, one of his athletes, Rodrigo, is unable to land in a stable position at the bottom of a squat due to a past injury from a car crash. To adapt to this limitation, Califrer taught him to split snatch, which is a rare technique to see among the Olympic weightlifting competition circuit.
Califrer said, "The methodology of my training is like most traditional training, but with respect to the relevance of individual particularities and knowing that certain systems of training need to be adapted to fit your athlete of your group."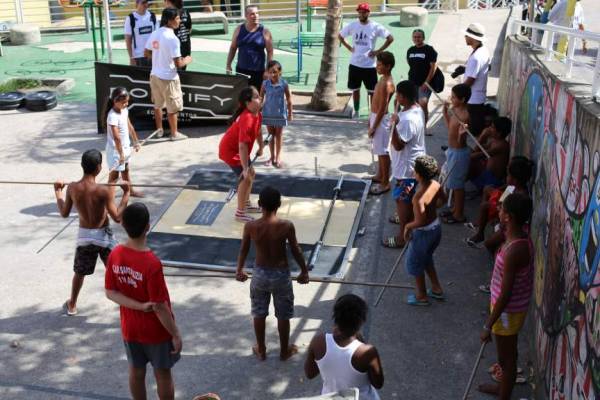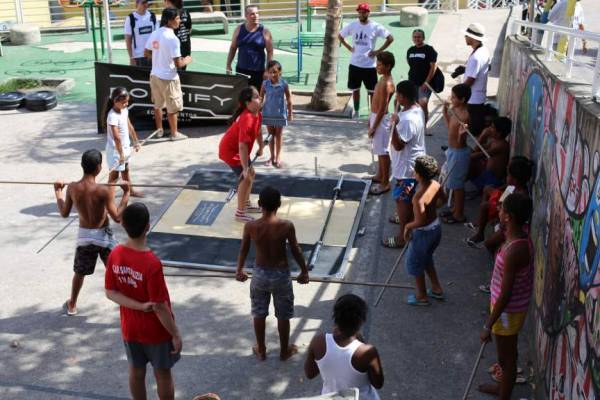 CrossFit and Olympic Weightlifting
Califrer's outlook on Olympic weightlifting is founded in a popular creed of the legendary Tommy Kono – to understand the Olympic lifts you need to do ten thousand reps near your personal record, which is why Califrer does not consider the average CrossFit athlete "real" Olympic weightlifters.
CrossFit is arguably the best thing to happen to the sport of Olympic weightlifting in, well, forever. The exposure alone has led millions of people to lift barbells on a regular basis and use the word "snatch" in daily conversation without laughing. While Califrer agrees that CrossFit has exposed Olympic lifting to a wider audience, he argues that it's exposure with incorrect form.
Califrer is a purist and in his opinion a weekend clinic does not make a qualified lifting coach, and he believes CrossFitters inherently disrespect the equipment, especially when launching barbells from above their heads during a workout. "Weightlifting will always be there and the popular waves [CrossFit] come and go," he said. "It [weightlifting] is the best conditioning for base for all sports. Sports cannot exist without weightlifting."
The Reality of Olympic Weightlifting in Brazil
Califrer trains twenty to 25 people on average each month at St. Lucy's, including his fourteen-year old son, Igor, and eleven-year old daughter, Lourdes. The club is located in the center of Rio de Janeiro, near the Santos Dumont Airport. St. Lucy's is a traditional gym with about 300 members, most of whom prefer morning workouts on cardio machines and heavy bicep curls.
The facility is 5,300 square feet and the Olympic weightlifting setup is located in a corner near the bodybuilding equipment. The building is slated for a remodel, at which time Califrer will gain an area exclusive to Olympic weightlifting that will allow him to offer a wider training schedule. The weightlifting schedule currently runs from 5:00-8:30pm.
Ideally, Califrer would coach his club full time; however, he still works in a regular gym two blocks from his house to pay the bills. "I can't support for myself, and I am searching people or business to support my team, for example with advertising," he said. "In the future, I want to expand my idea of Brazilian weightlifting, but at my club, I don't have so much financial support or to upgrade the equipment."
Occasionally St. Lucy's will pay for Califrer's transportation to competitions and his contract states that he must share fifty percent of the income from his team to the gym. Athletes pay about $45 (USD) a month to train under Califrer.
The club uses a collection of hodgepodge equipment including two Berg bars with forty years of use, one Bulldog bar with fifteen years of use, Califrer's personal Eleiko bar, which was originally for powerlifting, and no women-specific bars. His daughter only gets her hands on a women's bar at competitions. He has two pairs of Eleiko plates, as well as nearly 600kg of other plates, some dating back to the 1950s.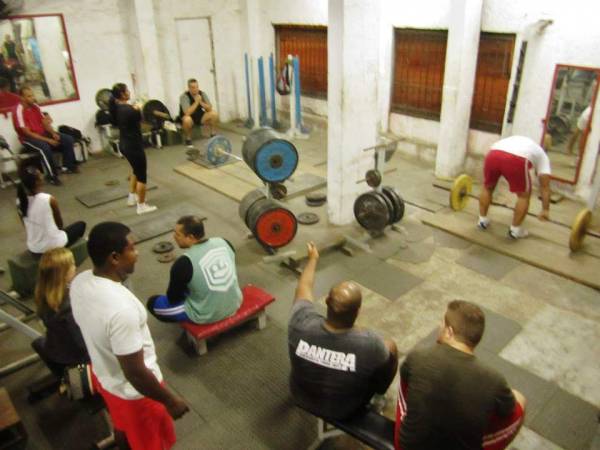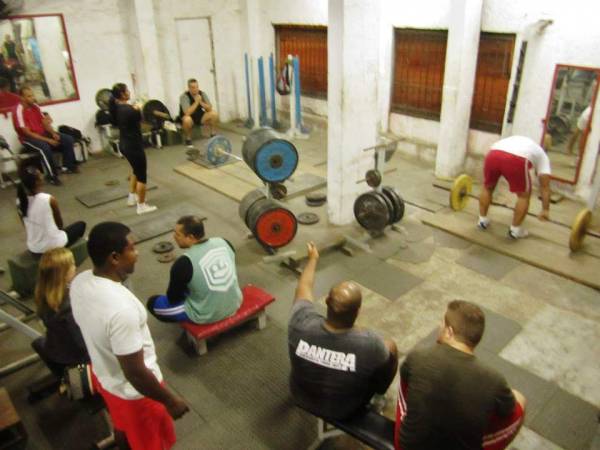 The Future of Olympic Weightlifting in Brazil
But the quality of equipment is not what draws athletes to the club. "Jorge is an outstanding coach and as a leader he's able to maintain a very honest dialogue, an open channel to anyone willing to welcome new challenges," said Rogerio Rodrigues of Rocinha CrossFit. "Part of the training regimen I like the most is developing the right attitude to achieve what Jorge calls 'parede da humildade' (humility wall), which means that in order to become a good weightlifter it is necessary to have a great amount of love and commitment for the sport."
As the host nation for the 2016 summer Olympic Games, Brazil is allotted five spots for Olympic weightlifting. None of Califrer's athletes will be ready for Olympic competition; however, other trainers in the country will likely have athletes to fill those spots. "Chances of medals in weightlifting at the 2016 Olympic Games are low for Brazil, but the athletes will try and any place they achieve would be a good result to the nation," he said.
For Califrer, Olympic weightlifting is not about the numbers. He wants everyone, tall, short, old, and young, to unlock their potential for achieving great things, both physically and mentally, by spending time with a barbell.