We receive free products and receive commissions through our links. See
disclosures page
.




When it comes to nutrition in the fitness world, figuring out the right combination of macronutrients to consume and when to eat them is a dominant focus. But what if most athletes are looking in the wrong places when it comes to utilizing nutrition to enhance performance and reduce recovery time?
It's becoming clearer that easily digestible foods that provide a massive amount of micronutrients are the key to reduced inflammation, enhanced oxygen-carrying capacity in the blood, mental clarity, and other performance gains. Brendan Brazier's newest book, Thrive Energy Cookbook, highlights those foods and incorporates them into tasty plant-based recipes with the athlete specifically in mind.
If you're an endurance athlete, an occasional runner, or have an interest in any kind of endurance competitions, you'd be well served to get to know Brendan Brazier and his work. He's a former Ironman triathlete, two-time Canadian 50km Ultra-Marathon champion, a best-selling author, and the formulator of the popular plant-based Vega product line of protein powders, superfoods, and other whole-food sport supplements.
I first took an interest in Brendan's work several years ago when making the transition to a plant-based diet. I noticed that unlike a lot of people who eschewed animal products for ethical purposes, Brendan initially made the switch to enhance athletic performance and achieve optimal health.
Since I made my dietary change for similar reasons, his first book, Thrive: The Vegan Nutrition Guide to Optimal Performance in Sports and Life, was one of the first books on plant-based nutrition that I read. While all the other books I'd read focused on longevity and disease prevention, the idea that a nutrient-dense plant-based diet could actually augment athletic performance was a revolutionary and inspiring idea for me.
Moreover, the idea that athletic enhancement and long-term health need not be mutually exclusive is something often overlooked in the fitness industry, and Brendan is leading the charge to bring this information to the forefront.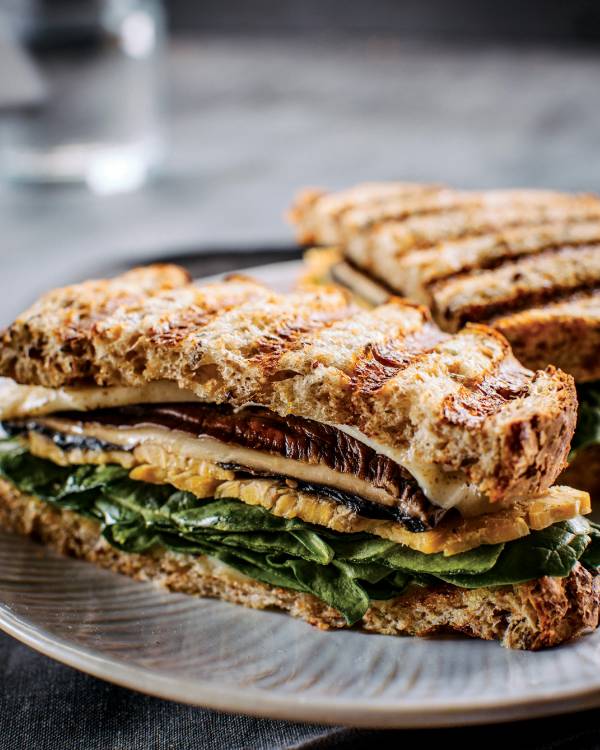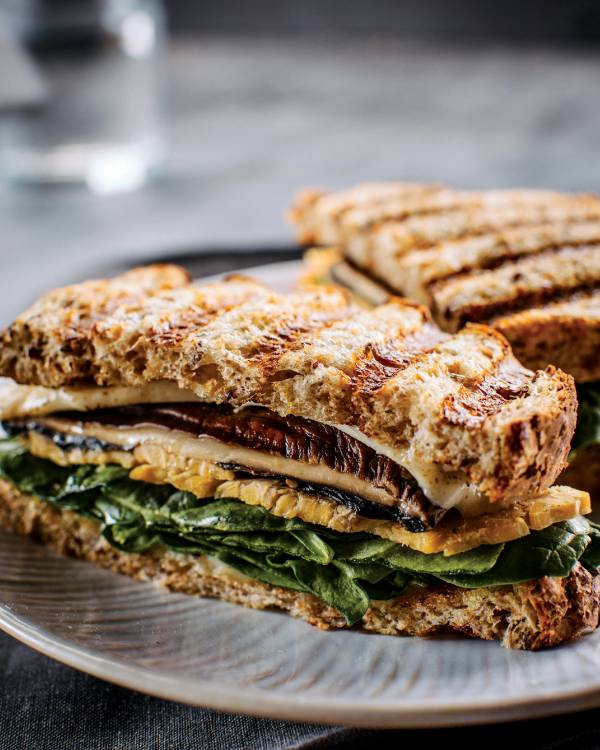 In Thrive Energy Cookbook, Brendan has packed 150 plant-based recipes for juices, smoothies, sandwiches, soups, energy bars, and even desserts, all labeled into various categories.
For those who are used to the heavily processed Standard American Diet and are trying to transition to a cleaner whole-foods, plant-based way of eating there are a number of recipes marked with a "T" for "transition" that are designed to act as a bridge between the two drastically different eating styles. These recipes, while quite healthy, might still include one or two more familiar and processed items (like Frank's Red Hot sauce or cane sugar, for example) or might just be a healthier riff on a familiar recipe (like a Reuben sandwich).
On the flipside, recipes marked with a "SND" (for "super nutrient dense") pack as many phytochemicals into one bite as possible. The Big Green Sandwich, for example, consists of sprouted bread, coconut oil, edamame hummus, zucchini, sprouts, avocado, spinach, and other green vegetables.
For those on gluten-free or raw regimens, recipes are also marked accordingly. With the exception of the sandwiches and the rice bowls, there isn't a heavy reliance on grains, so paleo eaters will even find plenty of worthwhile options. There's even a "PR," or "protein-rich" label for those concerned with getting enough protein in their diets.
I've tended to gravitate towards the "super nutrient dense" recipes since the "transition" recipes are a little to rich and calorically dense for my taste. I've already found several favorites (particularly in the smoothie and juice section) that will definitely be integrated into my regular meals.
I'm a big fan of the Big Green Energy Charger (the first time I've ever put avocado in a smoothie) and the Mighty King Chlorophyll, a juice loaded with greens, chlorella, and lemon. The Big Green Curry Kelp Noodle Bowl (sensing a trend here?) is also one of my favorites, and if you haven't tried kelp noodles, this is the perfect recipe to try them with. The Spicy Miso Mushroom Soup is another winner and will most likely become my go-to miso soup recipe in the future.
I think it's important to emphasize that these recipes were designed with active lifestyles in mind. Each ingredient has a nutritional and functional purpose (the Mighty King Chlorophyll juice, for example, is designed to reduce inflammation and enhance nutrient absorption), and some of the recipes might not be the best for those who are simply looking to lose weight.
But if you're an athlete (and if you read this website I'm guessing you are), these recipes will be perfect for you. I've already found that the smoothies and juices in particular are perfect for pre- and post-workout meals, as they help me stay energized and have contributed to shorter recovery times between workouts and runs.
There are some other valuable elements to the book, including a chart of the pH effect of various foods. Since athletes generate high levels of oxidative stress, Brendan advocates choosing mostly alkaline-forming foods to prevent our bodies from becoming too acidic and compromising our immune system. There's also a comprehensive list of must-have pantry items included as well as several basics recipes, ranging from homemade almond milk to cashew cheese and coconut butter.
Brendan has also included an explanation of biological debt, which is essentially what this book is designed to help you eliminate. Brendan uses the term to describe the energy-depleted state that most North Americans live in, relying on artificial stimulation like coffee and sugar to simply make it through the day. Brendan argues that by choosing nutrient-dense whole foods, we build up our sustainable energy levels and will no longer have to rely on stimulants.
If you're already a dedicated plant-based athlete or someone interested in incorporating more nutrient-dense plant foods in your diet to fuel your workouts and shorten your recovery time, then I recommend you pick up a copy of Thrive Energy Cookbook. If you're paleo but have been straying too far into meat-heavy territory, incorporating some of the phytochemical-rich recipes from this book will help you balance out your diet.
Most importantly, no matter who you are, this book might just help you achieve the performance gains you've been seeking and will certainly help you move towards a healthier, disease-free life down the road.
"Thrive Energy Cookbook" is available for $14.54 at Amazon.com.
And to give you a literal taste of what you can find in this cookbook, here's a recipe:
 Blood Orange & Ginger Citrus Tart
A visually beautiful, decadent dessert that will satisfy your sweet tooth while helping to shift your palate toward simpler food combinations.
Transition, Gluten-Free
Prep Time: 20 minutes, plus overnight chilling
Special Equipment: nut mill or food processor
Yield: Serves 6 to 8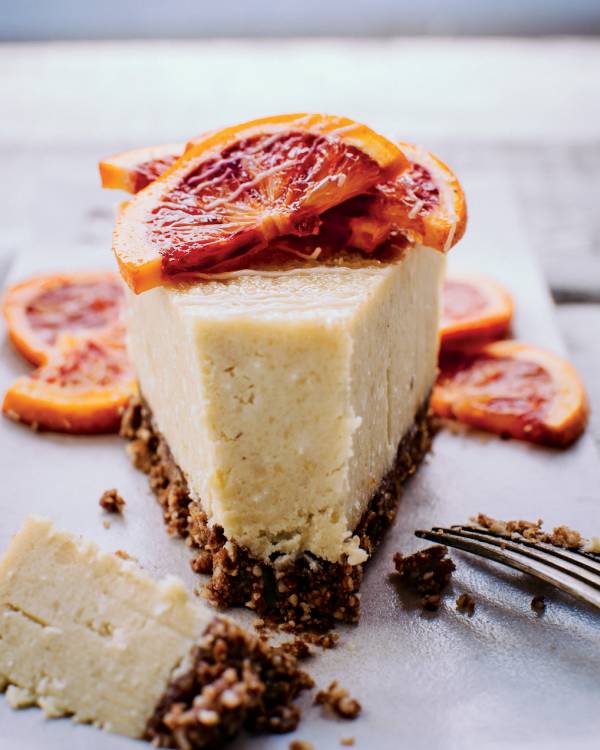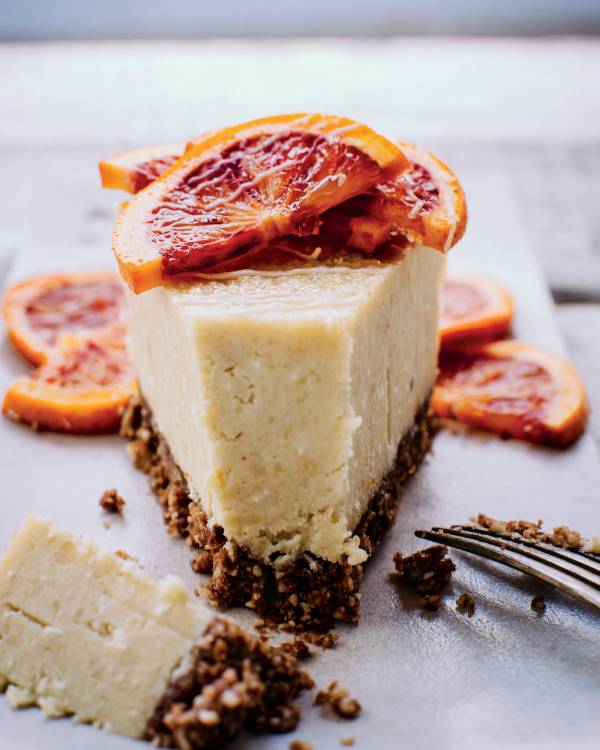 Crust
2 cups (500 mL) finely ground pecans
1 ¾ cups (425 mL) finely chopped almonds
6 tbsp (90 mL) almond meal (flour)
3 tbsp (45 mL) brown cane sugar
¾ cup (175 mL) Earth Balance Vegan Buttery Sticks
Filling
1 ½ cups (375 mL) cane sugar
½ cup (125 mL) cornstarch
1 tsp (5 mL) salt
1 ¼ cups (300 mL) water
1 cup (250 mL) almond milk (page 23)
2 tbsp (30 mL) orange zest
¾ cup (175 mL) orange juice (from about 6 medium oranges)
1 tbsp (15 mL) ginger juice
Garnish
¼ cup (60 mL) unsweetened shredded coconut
2 blood oranges, sliced, each slice cut in half
¼ cup (60 mL) vegan white chocolate chips, melted
Method:
Preheat oven to 350°F (180°C).
For the crust, in a medium bowl, combine the ground pecans, chopped almonds, almond meal, and cane sugar. Stir well. Rub in butter until well blended. Turn the crust mixture into a lightly greased 9-inch (2.5 L) springform pan and press firmly and evenly into the bottom. Cover and refrigerate for 1 hour.
Bake the crust for 15 minutes. Let cool.
For the filing, in a medium saucepan, combine the sugar, cornstarch, and salt. Stir in the water and almond milk. Bring to a boil over medium heat, stirring, and cook, stirring constantly, until slightly thickened, 3 to 4 minutes. Remove from heat and stir in the orange zest, orange juice, and ginger juice. Pour into the cooled crust, cover, and refrigerate overnight.
Remove sides of pan and gently press the shredded coconut onto the sides of the tart. Arrange the orange slices around the top edge of the tart. Drizzle the melted chocolate over the tart in a zigzag pattern from one side to the other.
Notes:
You can use any combination of nuts, such as hazelnuts or walnuts. Simply keep the overall nut ratio the same.
If you can't find blood oranges, you can use any other type of orange.