I find it a little offensive that all the back–to-school focus is on the kids and how it affects them. What about those of us who have to change our schedules to adapt to the kids going back to school? How could no one care about us? How can we be forgotten?
Admit it – you secretly wish you still got notes from mom in your lunch box.
Whether you have kids or not, for most of us this time of year means a change in the flow of life. And when you are conscious about your workouts and your food, nothing is harder to tolerate than a change in routine. After all, we meal plan to stay on track when life gets busy. Adding drastic changes means taking drastic measures to get back on track.
It's time for athletes and all the grown-ups who are affected by the changes in the school year to unite and share some helpful tips and tricks. After all, it's all about changing the narrative. Why wait for Halloween?
The Mason Jar Solution
As many of you recall, earlier in the year I shared my love of Mason jar meals and Mason jar infused waters. This love affair continues and offers the perfect solution to back-to-school meal planning. Forget the Sunday Tupperware prep and step up into the non-toxic way of prepping that also fits well in a gym bag. Not kidding. Add a cloth napkin, utensils, and a side of olive oil, and you are good to go.
"You cannot go wrong with these two delicious jars. Add a jar of fresh or frozen fruit, and you have a gourmet meal in minutes."
Mason jars make your food look its best, and a 32-ounce jar offers the perfect meal no matter how you fill it. Plus, these meals are a lot of fun. I've experimented with so many options it has almost become a game. You can add the oils and sauces during what I would call "Mason jar day" instead of "prep day." The longer they sit, the better.
The Italian in me offers you two jars that offer a perfect meal by themselves. Feel free to use 16oz jars and have a meal with a side salad – whatever floats your boat. You cannot go wrong with these two delicious meals. Add a jar of fresh or frozen fruit, and you have a gourmet meal in minutes.
Spaghetti and Meatballs, Mason Jar Style (Paleo Version)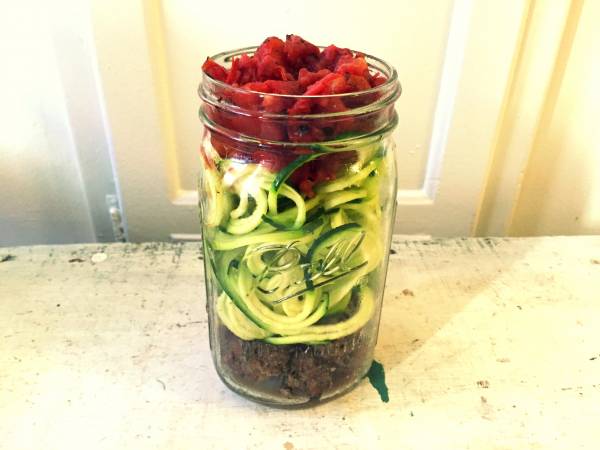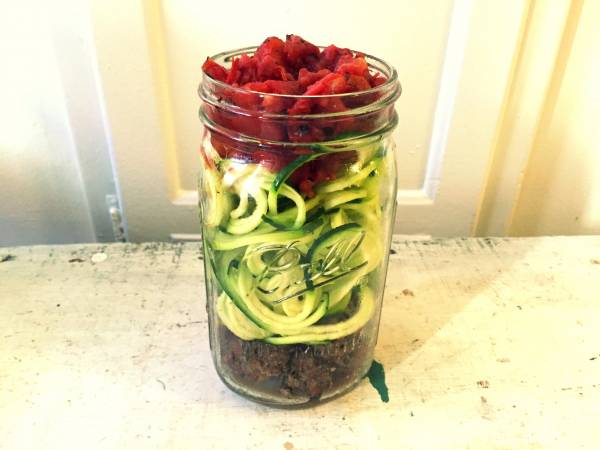 Ingredients:
1lb organic grass-fed ground beef
1 small onion, chopped
2 green or yellow zucchini, zoodled
1 handful fresh organic parsley, chopped
2 Tablespoons of paleo BBQ sauce or ketchup
1 14.5oz can of roasted chopped tomatoes
Salt and pepper to taste
Approximately 3 Tablespoons of coconut oil
Extra virgin olive oil or favorite Italian paleo dressing
Kitchen Tools:
Zoodle maker for the zucchini (you can also slice in rounds/strips)
Preparation:
Remove beef from the fridge and let it come to room temperature.
Add onion, parsley, BBQ sauce, and salt and pepper.
Using clean hands, mix until blended well.
Roll into meatballs the size of a quarter.
Coat a cast iron or large skillet with coconut oil and put on medium heat.
Add meatballs once they are rolled and the skillet is heated to medium.
Cook for about 10 minutes, turning to brown each side.
In the meantime, add the can of tomatoes to a small saucepan and heat slowly.
Wash and trim zucchini and make zoodles to put aside until assembly.
Assembly:
Layer the bottom of your Mason jar with meatballs.
Add a middle layer of zoodles, and top with the tomatoes.
You can pour olive oil over the mixture now or wait until prior to eating – it's up to your personal preference. Both are excellent choices.
No-Cook Antipasto Mason Jar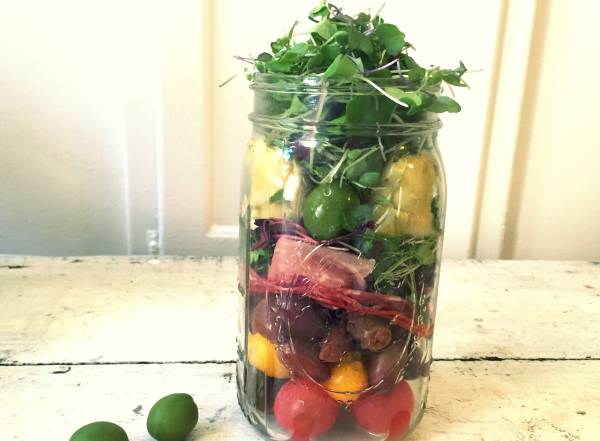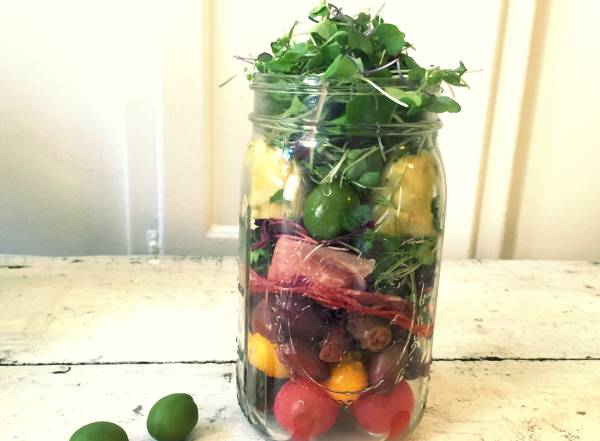 Ingredients:
Mixed nitrate- and sugar- free meats/salami (about 5 pieces total)
Nitrate- and sugar-free prosciutto ham (about 3 pieces)
2 cups of assorted olives in olive oil
1.5 cups of organic cherry tomatoes
1.5 cups of organic micro greens or greens of choice
3-5 small artichoke hearts in olive oil
Assembly:
Layer bottom with tomatoes, followed by olives. Then add a few layers of salami to cover.
Continue by adding a mixture of olives and artichokes before topping off with micro-greens.
Add olive oil or dressing of your choice now or before eating.
More Like This:
New On Breaking Muscle Today
Photo 1 courtesy of Shutterstock.
Photos 2 and 3 courtesy of PaleoBOSS Lady.